June 9, 2023
The Communal Table – TLDEF Interview with Sue Troutman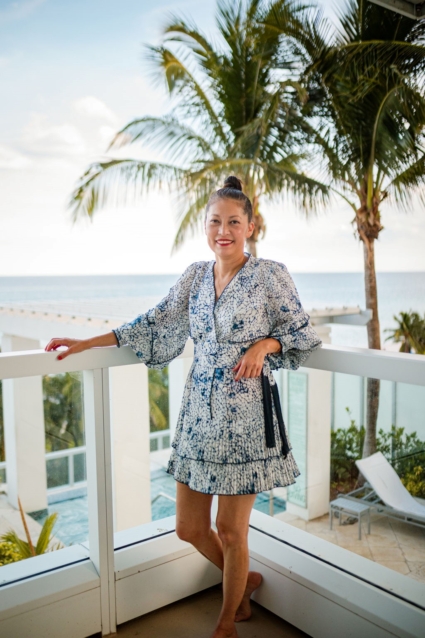 It's Pride Month and we're thrilled to be partnering with The Transgender Legal Defense & Education Fund (TLDEF) for the third consecutive year. We are proud to sit down with Sue Troutman, Director of Development at TLDEF, to learn more about her and the important work she does with the organization. 
Hi Sue! Please tell us about your role.
I'm the Director of Development, leading fundraising efforts and managing a team of three amazing staff here at TLDEF. I've been with the organization for almost four years, and it's been an incredible experience to be a part of TLDEF's growth.
Where did you grow up? Was it a community open to LGBTQ+ people?
I'm a military brat and mostly grew up overseas. Unfortunately, during that era and in that environment, it wasn't a very welcoming space. I have been incredibly heartened to learn, though, that so many of my former high school classmates have grown beyond our upbringing.
Could you please share TLDEF's mission and speak to the work you do? 
Since 2003, the Transgender Legal Defense and Education Fund has worked to advance justice and equity for transgender and non-binary communities in the United States, selecting client cases that are likely to create, strengthen, or affirm important legal precedents. TLDEF focuses much of our legal advocacy efforts in the South and Midwest, where limited to no legal and policy protections exist for trans people and where trans people are under heaviest attack.
TLDEF has long been known for its signature Name Change Project, which provides free legal name changes to low-income trans folks. Three years ago, we launched the Trans Health Project to end insurance exclusions for transition-related health care and have since negotiated expanded coverage of transition-related care with one of the five largest health insurance companies in the U.S., among several other victories. Our impact litigation team has also had several significant wins in recent years, securing a landmark victory establishing one of the strongest jail or prison policies in the country protecting the rights of transgender, non-binary, and intersex people in custody; and winning two first-of-their-kind legal rulings for transgender healthcare coverage that will impact countless transgender people living in the South.
What do you love about the work? 
What I really love is that throughout our history, TLDEF has largely focused its efforts on those most pushed to the margins — including transgender women of color, transgender and non-binary youth, poor trans people, and the intersections among these populations — and has pursued litigation in traditionally conservative locations where protections are either limited or non-existent. That commitment is a testament not only to our organizational values, but also our fearlessness — and we have proven time and time again that when we fight, we win. 
What's really hard?
What's been really difficult, unsurprisingly, is the alarming rise of anti-trans legislation. The surge of anti-trans state legislation is part of a highly coordinated and well-funded effort by anti-trans activists to pass laws and policies that limit, exclude, and deny basic protections to trans people. TLDEF is challenged by the urgent need to confront these threats that would dramatically increase the risk of life-threatening discrimination, violence, and economic insecurity for the trans community. But through the strategic expansion of our legal advocacy, public policy, and public education efforts, TLDEF is responding to these threats while also proactively advancing the movement for full legal and lived equality for transgender and non-binary people. 
The rise of anti-trans sentiment and legislation is very unsettling.  Could you share a recent example of how TLDEF is directly helping Trans individuals?
I mentioned above a first-of-its kind victory in the South, in which a Georgia federal district court issued a landmark ruling that an employer cannot exclude or deny coverage for gender affirming care from its employee health insurance plan. Finding in favor of our client, the court ruled in Lange v. Houston County that Houston County, Georgia, violated protections afforded under Title VII of the Civil Rights Act of 1964. TLDEF filed this lawsuit in 2019 on behalf of Anna Lange, a Sheriff's Deputy for Houston County, Georgia, who was repeatedly denied insurance coverage for medically necessary gender-affirming care. After our win, Anna Lange had this to say:
"TLDEF is an amazing organization. The majority of the time, the actions of those discriminating against transgender people go unchallenged and with little fear of any repercussions. When I was denied medically necessary transgender related healthcare by my employer in Georgia, I was devastated and left with no hope. TLDEF has returned my hope for becoming the person who I am meant to be and for that I will forever be thankful."
That's so encouraging, Are there any new initiatives or programs that are coming up? 
TLDEF is launching a new public policy program this year to help turn the tide against anti-trans opponents and the growing surge of anti-trans legislation.The unfortunate reality is trans communities lack a forceful policy-oriented counterweight to these groups' aggressive and multi-faceted efforts to shape anti-trans policy. TLDEF must meet this moment and confront these urgent threats, and our public policy program will help us do so.
In your estimation, are things improving for the trans community — or getting worse?
Being cisgender, I don't think I'm in a position to gauge this. I see a lot of bad things happening, but I also see TLDEF securing wins, and I see moments of trans joy and celebration. 
What's a meaningful way, other than by donating money, for people to support the trans community at large?
Make the effort to learn about the issues and don't make it about yourself if you're cisgender. Too often I see allies – in various social justice spaces – center themselves, and that is the biggest no-no. 
Any words of advice, or resources you could suggest for a non-Trans person who is trying to understand and support their Trans loved ones?
I think listening and being kind are words of advice that work for a lot of situations.
Always.  What's one thing about you that might surprise your colleagues – a hobby, a special skill or passion?
I don't think it's a surprise anymore, but I'm a big European football fan – I've been known to work my vacation time around important soccer games.
Thank you, Sue, for taking time to sit and share at our Communal Table!  Learn more about how you can support TLDEF here.