Fragrances

Confections

Elixirs

Skin

Home

Gift Sets

Pets

Shop All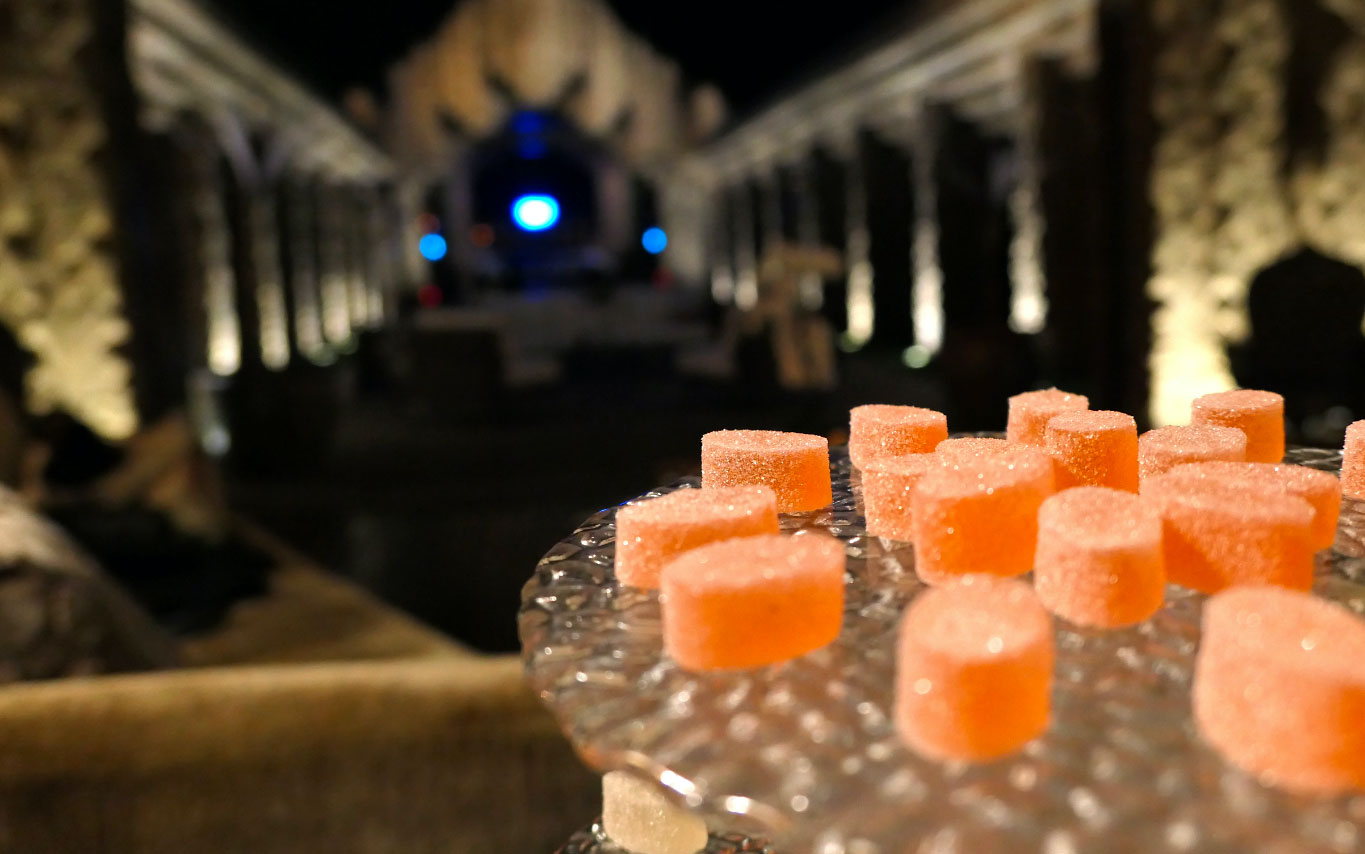 What is CBD?
Extracted from hemp plants, CBD is a natural and non-psychotropic botanical that offers a profound path to wellness. Elevated energy, relief from pain, stress, inflammation, and insomnia are just some of the ways CBD can support and protect the mind and body.
Black Dahlia incorporates sustainably-cultivated CBD derived from all-natural, broad-spectrum hemp oil into our Confections, Elixirs, Skin & Home Product Collections.
Is CBD Legal?
Yes, CBD, also known as Cannabidiol, is federally legal.
Black Dahlia CBD products are federally legal to purchase across the United States and contain less than 0.3% THC by weight and are compliant with the 2014 Farm Bill.
With the notable exception of tetrahydrocannabinol (THC), phytocannabinoids such as cannabidiol (CBD) are abundant in hemp. The 2018 Farm Act (Farm Act) provides broad protections for hemp, including making it an agricultural crop and descheduling it from the Controlled Substances Act, legalizing it across the USA, and explicitly legalizing cannabinoids derived from it. The Farm Act defines hemp as: "The plant Cannabis sativa L. and any part of that plant, including the seeds thereof and all derivatives, extracts, cannabinoids, isomers, acids, salts, and salts of isomers, whether growing or not, with a delta-9 tetrahydrocannabinol concentration of not more than 0.3 percent on a dry weight basis." For these reasons, it is lawful to buy and consume products that contain hemp oil. 
For full text on the Congressional Bill, H.R.2642 - Agricultural Act of 2014 and 84.FR.58522 - Agricultural Act of 2018
Will I fail a drug test if I use your products?
Black Dahlia products are THC-free and CBD is legal.
Most marijuana drug screens detect THC (tetrahydrocannabinol) and its primary metabolite. Therefore, using THC-free products will not cause you to fail a drug test for marijuana. THC is the psychoactive compound found in marijuana. After consumption, the body breaks down THC into metabolites. THC's primary metabolite is 11-nor-carboxy -Δ9-THC (THC-COOH).
CBD (cannabidiol) is one of the main phyto-cannabinoids found in our full-spectrum hemp oil. As of 2018, CBD is no longer prohibited by WADA (World Anti-Doping Agency) (WADA 2018). If you are an athlete, please check with your Anti-Doping Organization before consuming any supplements.
Is your hemp oil tested?
We rigorously test our hemp CBD oil in leading third-party laboratories in accordance with the 2014 Farm Bill. In addition, we test to ensure no solvents, pesticides, or microbiological contaminants. Importantly, we also test to confirm that our hemp CBD oil has no detectable levels of THC. Finally, we test to quantify the levels of phyto-cannabinoids including CBD.
Are you products lab tested by a 3rd party?
Is CBD safe?
CBD currently represents one of the most promising phyto-cannabinoids for wellness use due to its non-psychotropic properties, low toxicity and high tolerability in humans and other animal species.
It is important to stress that any statement about the efficacy or effectiveness of CBD in any particular condition have not been evaluated by the FDA. As such, all Black Dahlia CBD products are not intended to diagnose, treat, cure, or prevent any disease.
Like many botanical extracts, CBD has the potential to enhance wellness, but it is important to be aware of reported potential side effects. CBD products should not be used if you are pregnant or nursing. Consult with a physician before use if you have a serious medical condition or use prescription medications. A doctor's advice should be sought before using these products and any supplemental dietary products. Some of the side effects from CBD use include dry mouth, diarrhea, and unnecessary drowsiness. In addition, CBD has been shown to negatively interact with certain medications, including liver and seizure medicines. Again, please consult your physician about your particular situation before use.
Why did you choose these natural ingredients?
Medium-Chain Triglycerides (MCTs): we use 100% certified MCT derived from coconuts.  MCTs have wide-ranging benefits, such a providing fuel for the brain and body.  Moreover, the body easily digests and absorbs MCTs (Martena 2006).
Sorbitol: Sorbitol is a naturally occurring sweet ingredient found in many fruits, berries, and vegetables, including apples and pears. Furthermore, the human body produces sorbitol as part of natural metabolism. In 1872, sorbitol was first discovered in the fresh juice of mountain ash berries. In its natural state, sorbitol appears as a white crystalline powder.  Because it has a low glycemic index, people frequently use sorbitol as a sugar substitute.
Lecithin: Lecithin is a natural mixture of phospholipids.  Phospholipids are natural substances that are essential to life. They are present in every cell in the body and help maintain membrane integrity of cells. In addition, phospholipids help regulate biological pathways, including cellular communication and synthesis of the neuro-transmitter acetylcholine. Also research shows that phospholipids reduce inflammation and lower cholesterol in certain patients (Küllenberg 2012). Phospholipids have good emulsifying properties that helps stabilize emulsions (Singh 2017). Finally, we only use lecithin that is derived from non-GMO soybeans.
Tocopherol: Tocopherol is a form of Vitamin E typically derived from vegetable oils. It has antioxidant properties and helps guard against oxidation. Anti-oxidants in Vitamin E helps block free radicals and slow down damage associated with the aging process. In addition, our tocopherol is from sunflower seed oil and non-GMO soybeans.
Hyaluronic acid (HA): with a natural ability to draw and hold water, HA gently replenishes your skin's natural moisture barrier can improve skin elasticity, and reduce wrinkles.
Shea Butter: helps soften skin while providing anti-inflammatory and healing properties.
Grapeseed Oil: this botanical oil offers antioxidant and anti-microbial properties that also help maintain skin elasticity and softness.
Coconut Oil (Cocos nucifera): extracted from the dried inner-flesh of coconuts, this natural oil has been used for thousands of years to support skin health. It is a rich source of vitamins and fatty acids, including lauric acid, capric acid, myristic acid and palmitic acid. In addition to its anti-microbial action, its properties help nourish, moisturize, and soothe skin.
Nano-Silver: silver has been used for centuries for its antiseptic and anti-inflammatory properties that can help restore and maintain skin flora. These tiny silver particles help promote natural healing.
Jojoba Oil: full of nutrients like Vitamin E and B, as well as antioxidants and minerals which all help naturally nourish and protect skin while providing deep and long-lasting moisturizing action.
Stearic Acid: a naturally-produced fatty acid, stearic acid is an emollient that aids in the moisturizing action of the lotion, helping restore smoother skin.
Argan Oil: native to Morocco, Argan oil is rich in omega fatty acids, Vitamin E and linoleic acids, all of which delicately moisturize skin and help soften and relieve dry patches. Its antioxidants can also be helpful for people with skin conditions like eczema.
Lavender Essential Oil: in addition to its light floral scent, lavender oil's pain-relieving effects help soothe inflammation, while the beta-caryophyllene in the oil also acts as a natural anti-inflammatory.