April 1, 2023
Raphael Mechoulam, Father of Cannabis Research, Dies at 92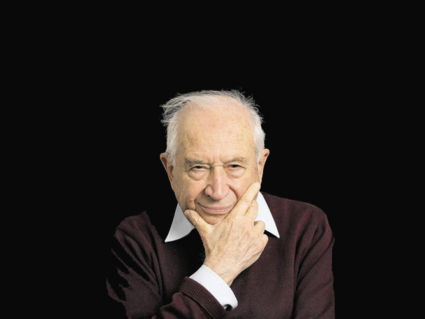 Professor Raphael "Ralph" Mechoulam might not be a household name but in the scientific field of cannabis research he is a legend. Mechoulam, a Bulgarian-born Israeli organic chemist, was the first to isolate tetrahydrocannabinol, or THC, the component in cannabis responsible for the plant's psychoactive effects that get you "high."  Professor Mechoulam also was the first scientist to isolate CBD, the non-psychoactive cannabinoid we know to possess far-reaching medical and pharmacological benefits. 
Mechoulam and his colleagues went on to isolate and synthesize several more cannabinoids including cannabidiol (CBD), cannabigerol (CBG), and cannabichromene (CBC). He also pioneered the study of the body's own cannabinoid system, which produces chemicals similar to THC to help regulate appetite, manage pain and help the immune system.
Ever since the 1960s, Mechoulam was a groundbreaking researcher keen on exploring the science behind cannabis. He was committed to helping destigmatize the plant whose specific medical properties were not yet known or understood. Over the decades, he became a pioneer in the emerging field whose groundbreaking discoveries about cannabis helped move it out of the counterculture and into the mainstream. 
Born in Sophia, Bulgaria in 1930, Mechoulam immigrated in 1949 with his family to Jerusalem, Israel where he later studied chemistry. He received his PhD at the Weizmann Institute in Rehovot and after postdoctoral studies at the Rockefeller Institute in New York he joined the scientific staff of the Weizmann Institute. Mechoulam became a full professor at Hebrew University of Jerusalem in 1972 and was named the Lionel Jacobson Professor of Medicinal Chemistry in 1975, serving as the university's rector from 1979-1982.  Most recently he was Professor Emeritus in the Department of Natural Products at the School of Pharmacy at the Faculty of Medicine at the Hebrew University of Jerusalem.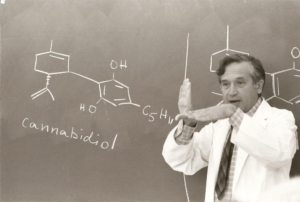 As Mechoulam discovered more about cannabis and its efficacy in easing symptoms of cancers, epilepsy and other diseases, he questioned the strict drug laws in the United States and elsewhere that suppressed research and kept cannabis off the market. The industry and science of medicinal cannabis "has to follow medical lines of thought and development and modern medical routes," he told The New York Times in 2017. "Israel has more [clinical trials] than the United States at the moment, which is ridiculous."
Mechoulam kept researching and innovating in cannabis science well into his later years.
As recently as 2019, the then-88-year-old announced another cannabis creation: synthetically stable cannabidiolic acid (CBDA), fit for clinical use. He shared this finding at the well-known cannabis conference CannMed in California.
"We have taken the unstable acid molecules of the cannabis plant and synthesized them to provide a stable, consistent basis for researching new therapies across a wide range of medical needs," Mechoulam shared. During his speech, he urged the scientific community to support more medical cannabis research. He expressed regret for valuable research time already lost as patients, particularly children, had missed out on life-altering cannabis-based treatments to help with illness and pain.
"Did we have to wait 30 years? No," he said in 2019. "We could have helped thousands of children, and we didn't."
A lifelong, passionate advocate for the science of cannabis and its growing body of medicinal benefits, Mechoulam was also one of the founding members of the International Association for Cannabinoid Medicines, ​​a non-profit society dedicated to the "advancement of knowledge of cannabis and cannabinoid medicines among medical professionals." He also co-founded the esteemed International Cannabinoid Research Society,  a professional society for scientific research in all fields of cannabinoids.
Mechoulam died in Israel at age 92. His remarkable life, legacy and innumerable contributions to the science of CBD research and plant medicine will have him forever remembered, and revered, as the true Father of Cannabis.