February 4, 2023
Kitchen Innovation: Meet Chef Greg Bernhardt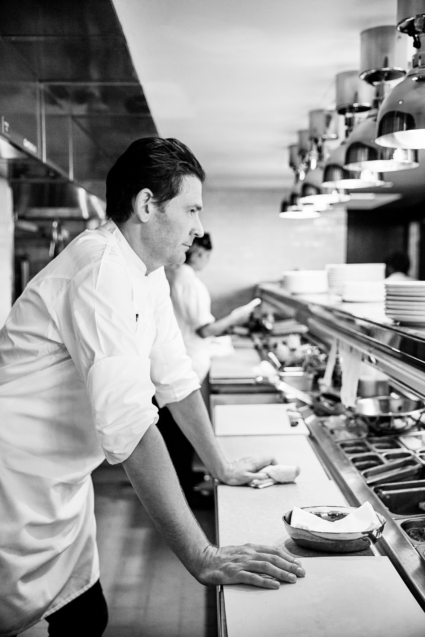 As Head Chef for Black Dahlia, Greg Bernhardt draws from a variety of techniques and inspiration for what he creates in the LA-based kitchen, situated in the heart of the innovative Arts District. Ingredients are sustainably sourced whenever possible and every single confection, including chocolate CBD Bonbons, sugar-free CBD lollipops, and velvety CBD gelées are made with precision, by hand.  Each confection is infused with the highest-grade CBD, grown using organic growing practices and standards without the use of herbicides or pesticides, and is fully non-GMO. 
Bernhardt has been a part of the Los Angeles cooking scene for well over 15 years. He has worked alongside great chefs such as Ludovico Lefebvre, Joachim Spica & Neal Fraser (as well as moonlighted with Alain Passed, Marc Meneau and Inaki Aizpitarte). He was on the first team from California to win Iron Chef, opened a small French wine bistro called 750ml with beautiful reviews, and had a mention in the first Los Angeles Michelin Guide. Bernhardt has an intimate knowledge of the finer workings of high-end restaurants, having concepted and opened the notable establishments Church and State (L.A.'s best new restaurant 2009) and Paley in Hollywood.
Despite the many accolades and successes, Greg was burnt out by the ruthless pace and demands of high-profile kitchens. After a good friend suggested he try working in the emerging cannabis space, Greg made the leap.  "I was introduced to CBD through my wife, and realized within two weeks innumerable positive benefits… better sleeping habits, increased control over my emotional responses, and help with body pains from a long career as a fine-dining chef."
Creating novel CBD confections that deliver the benefits of CBD while also delivering exceptional taste is no small feat.  CBD, as powerful and healing as it can be, is also an incredibly fickle and tricky ingredient to work with. "The natural bitter compounds present the hardest challenge," Greg shares.  "It requires an enormous amount of patience and curiosity to solve. I treat it like a puzzle that has endless correct answers waiting to be solved."
We asked Greg some other questions about the challenges and beauty of cooking with hemp.
Q: How does working with CBD compare to working with other ingredients?
A: "CBD requires absolute concentration in a very technical way. Making food in a restaurant can allow you to work fast and loose and achieve pretty stellar results, CBD requires surgical precision & consistency at scale."
Q: How does CBD enhance the edible experience?

A: "A bonbon is already a luxury. It's the best quality ingredients executed with the best possible techniques and technology, so the added layer of CBD just elevates the experience to a new level."
Q: What's your favorite thing about working with CBD?
A: "Helping people. Period."
Q: Without giving away state secrets, could you share a bit of the process – how you work with it? In liquid form? Do you cook the CBD first?

A: "The CBD shows up in two forms- raw crude distillate, and our nanoformulation. From there it's liaised into each 'recipe' using the best possible technique available to us."
Q: What's your favorite CBD confection to make?
A: "Chocolate. Bonbon production has so many unique steps that require all your senses and leave no room for mistakes. It's highly technical and feels a bit like meditation."
Q: What should be next?
A: "Low dose CBD & psilocybin aimed at therapeutics."

When Greg's not innovating in the kitchen you'll find him sampling one of Los Angeles' many great street foods or spending time with his family at home. New flavors and formats are on the horizon for '23, but getting them just right with CBD can be extremely challenging.
"Flavor building with CBD is a bit like a drunk gunfighter from the old western movies- aim for the wall to hit the window. Flavor stacking isn't always straightforward, it sometimes requires starting from nearly the opposite flavor or place you're trying to go. I'll start with an idea, but where it takes me isn't always the place I set about for… "
As for his dream confection to make? According to Greg, "It hasn't been invented yet;)."