May 9, 2020
Community Well-Being in a Time of Crisis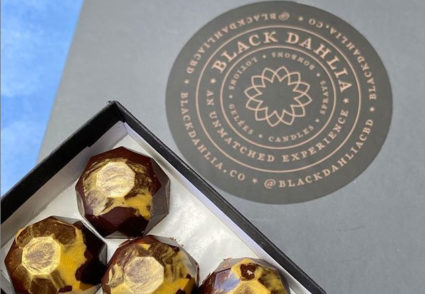 Enhancing personal and community well-being is core to our mission at Black Dahlia. Today, we are all facing extraordinary challenges as we struggle against the pandemic upending lives in our neighborhoods and throughout the world. Inspired by the many selfless acts of our first-responders and healthcare workers, our efforts at Black Dahlia are more focused now than ever. Every Black Dahlia team member is dedicated to supporting the wellness of our communities. From the way we sustainably source our products to the all-natural ingredients in each of our elevated CBD collections, Black Dahlia is proud to continue our wellness efforts during the Covid-19 pandemic.
We wanted to share some of our recent activities in support of diverse organizations and charities that promote lifestyles of wellness and responsibility and strive to combat local and global inequalities.
Last week, Black Dahlia participated in Giving Tuesday on May 5th, 2020 in coordination with our friends at UCLA Medical School, UNC School of Nursing, East Orange General Hospital, and The Mount Sinai Hospital. Following safety guidelines, our chefs Greg and Taryn were fortunate to be able to safely deliver gifts of thanks and wellness in the form of care packages of CBD Lollipops and CBD Chocolate Bonbons. These gifts were a small way we could sincerely thank frontline workers and medical professionals for their hard work, dedication and sacrifice during the Covid-19 pandemic.
"Thank you chefs for these special treats! Our rehab team was over the moon. We ooh'd & awed over these fleur de sel caramel bon bons!"
In addition to supporting Covid-19 response initiatives and individuals, we continue to prioritize donating a percentage of our profits to the Environmental Defense Fund (EDF), whose mission is to preserve the natural systems on which all life depends. Guided by science and economics, the EDF is helping solve our world's most critical environmental and global health challenges.
On another health and wellness front, Black Dahlia recently sponsored the Blue Jacket Fashion Show, an annual fundraiser benefiting the Prostate Cancer Foundation (PCF) in New York City in February 2020. PCF is the leading philanthropic organization funding prostate cancer research globally. Researchers funded by PCF grants unlock the mysteries of prostate cancer and bring new treatments to patients.
Please join us as we continue our mission to find ways of enhancing personal & community well-being through our partners, customers, and friends. Be well and stay balanced.
Please Follow us on Instagram – Facebook – LinkedIn for more CBD wellness and community well-being in a time of crisis.
>>Learn more about Black Dahlia