March 29, 2023
Communal Table Project Winner Martin Roseman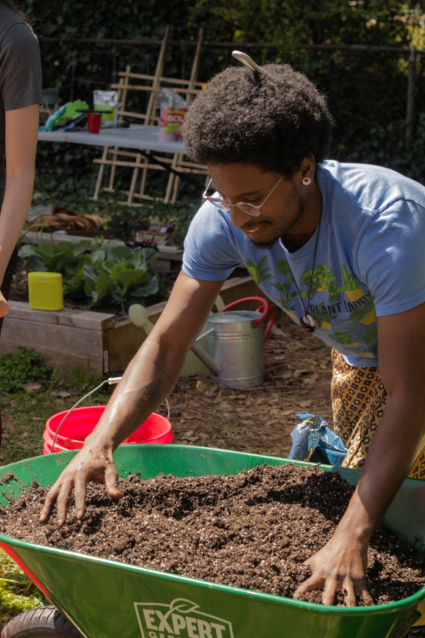 Meet Our Impact Creators:
Our Communal Table continues to be a physical and philosophical space for gathering, listening and learning. As a brand, we endeavor to support and learn from other brands and individuals who inspire us and are also committed to paths of wellness.  
In 2022, we created The Communal Table Project, a program designed to encourage unique Impact Creators to share their visions for the chance to receive a $5,000 grant in order to continue their work. At the end of 2022, we selected two unique Impact Creators who embody the spirit of the Communal Table, and are also committed to improving wellness in people's lives. 
Meet The Winners
We recently introduced you to Impact Creator Charita Dailey, whose work at Change of Omaha is helping to improve healthy and sustainable food security for underserved communities in Omaha, Nebraska. This month, we are thrilled to introduce you to another Communal Table Project winner, Impact Creator Martin Roseman, Founder of Roseman's Remedies and Attunement. 
Roseman's Remedies is a lifestyle and wellness brand that focuses on sustainability and community involvement with proceeds from products going toward free community events and city clean ups in Atlanta, Georgia. Not only do they offer a variety of products to help people heal mentally, physically, emotionally and spiritually but also they host community events that promote social wellness and allow for meaningful in-person connections.
Founder Martin Roseman grew up in New York but has called Atlanta, Georgia his home for the last 17 years. We caught up with him to learn more about his upbringing, what inspires him, and his vision for his brand moving forward.
Meet Martin
Q:  Did your childhood or family inform or inspire the formation of Roseman's Remedies? 
A: I was a sensitive child, and had a sickly aunt who was in and out of the hospital with cancer. This left an imprint on me to live a healthier life and break the cycle. 
Q: What led you to create Roseman's Remedies? Was there an "aha moment" you can share?  
A: They say as a healer, you are truly seeking to heal yourself. Sitting in my apartment while in massage school it dawned on me that I wanted to create a remedy that could heal not only myself but also those around me. That moment of reflection led to the birth of this concept. 
Q: Were you working with herbs or botanicals before?
A: Since I discovered cannabis, I have explored the herbal world. Following my culture's tradition of using herbs instead of pharmaceuticals coupled with the Hippocratic quote, "let food be thy medicine," I explored the world of herbs, fruits and vegetables as healing sources.
Q:  In your own words, what is Roseman's Remedies mission?
A: To encourage our community to take sustainable actions with love, care and integrity. 
Q: Tell us a little about Roseman's Remedies newest project, Attunement?
A: Attunement is a sacred space designed to support us in attuning to ourselves, each other, and our environment through the use of sound and light frequencies, botanicals and ceremony.
Q:  Spaces like these are so important but hard to access! Access to holistic healthcare and wellbeing is a nationwide, endemic problem requiring creative solutions. What's the most creative, or unexpected solution, you have created?
A: This question is actually interesting. We find that more people have a hard time purchasing an herb that will heal them than an alcoholic beverage of the same price. So upon reflecting on that we decided we would find a creative way to make herbs and health fun. By hosting fun events in the community and by only serving herbal concoctions we have been successful with providing herbs in a consumable and fun way that reaches Gen Z and Millennials. By creating fun around health, people have become more interested. 
Q: What's the number one challenge you face?
A: Scalability is the trickiest part of the industry. To remain competitive and sustainable is a double edged sword.
Q: Please describe a recent "win" for you – a moment that felt really good!
A: Winning this grant!
Q: Please share a little more about what the idea of a Communal Table means to you both personally and for Roseman's Remedies?
A: A communal table means that no matter where you come from, who you are, how you dress or live your life you have an equal chance of succeeding and winning. At a communal table everyone has a seat!
Q: What's your vision for Roseman's Remedies for 2023? 
A: My vision for Roseman's Remedies this year is to successfully create a community that is balanced, connected and supportive of one another. 
Q: What's a personal vision, or goal, you'd like to share?
A: To travel the world sharing art and wellness. I would like to visit farms and see exotic plants, herbs and foods….to  meet amazing artists who are shifting culture and to learn everything I can about how the world functions. 
Q: What's something about you that surprises others to discover?
A: I have no collegiate experience. 
Q: What brings you the most joy?
A: Connecting with others!
We love to connect with others too – especially when they are creating a positive impact for wellbeing in our communities. If you are an Impact Creator or you know one, we encourage you to learn more about The Communal Table Project and follow us on IG to see when applications open for 2024.