January 31, 2020
Healthy CBD Choices Start with Science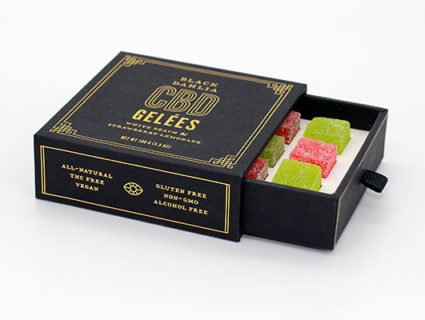 Making healthy CBD choices starts with all-natural ingredients, trusted artisans, and the science used to extract the CBD oil. If you are considering adding edible CBD to your wellness routine, keep these 2 things in mind when selecting a high-quality CBD brand to deliver all-natural consistency for every dose: sophistication and quality.
The science behind your CBD matters. There are several ways to extract oil from a hemp plant and make cbd (cannabidiol) oil, and there are many CBD products available at your local convenience store that contain CBD. Before you select an edible CBD product, make sure you choose a CBD Brand that has high standards and a rigorous process when creating their gummy or tincture.

At the heart of Black Dahlia's artisanal luxury CBD brand is our patent-pending Nano-CBD, a superior cannabinoid-rich hemp oil extract from all-natural, plant-derived products, developed by Founder and MIT BioMedical Engineer, Daniel Young. In scientist speak, our process breaks down the cannabidiol into nano-sized, micro-dose droplets resulting in a CBD extract of higher quality and "bio-availability" (i.e. more rapidly absorbed by the body = faster effect).
Black Dahlia CBD products embody the science of quality CBD and also the art of it. Combining our Nano-CBD oil science with the culinary craftsmanship of award-winning chef artisans, Taryn Garcia @cheftaryngarcia and Greg Bernhardt @gregmegadh, we have created a superior CBD confection of the highest-quality ingredients, purity, and flavor profiles.
Introducing Black Dahlia CBD Gelées, one of the most exquisite, handmade luxury CBD edibles available on the market. All-natural, non-GMO, Vegan, THC-free, Alcohol-free and containing no artificial ingredients or preservatives, Black Dahlia CBD Gelées are perfectly paired edibles of elevated flavors and sophisticated science.
If you're thinking of the traditional "CBD gummy," let us elevate your expectations. A Black Dahlia CBD Gelée is a delicate and balanced "pâte de fruit" confection, pairing bright sophisticated flavors with a delightful dose of 20mg of Nano-CBD. This silky marriage between our Nano-CBD extract and the elevated creations of our artisan partners results in tastefully elevated and effective CBD products, a CBD industry first.
Embody balance when you CBD: the yin & yang, beauty & science, work & wellness, luxury & responsibility. Black Dahlia's Nano-CBD products can be enjoyed in ways that embody a balanced approach to self care with unmatched, all-natural elevated Nano-CBD science.
Add Black Dahlia CBD Gelées to your Wellness Routine, available from our partner, Bespoke Post.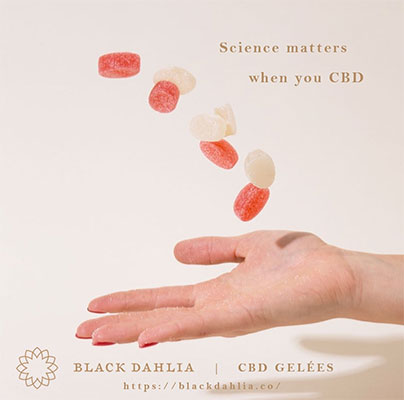 Reference Articles:
How is CBD Oil Made and Extracted?
3:30 Pickup, 420 Mom: Consumer Brands Are Cashing In On The Anxiety Of Working Moms